Overview
KNIME Big Data Extensions integrate Apache Spark and the Apache Hadoop ecosystem with KNIME Analytics Platform.
This guide is aimed at IT professionals who need to integrate KNIME Analytics Platform with an existing Hadoop/Spark environment.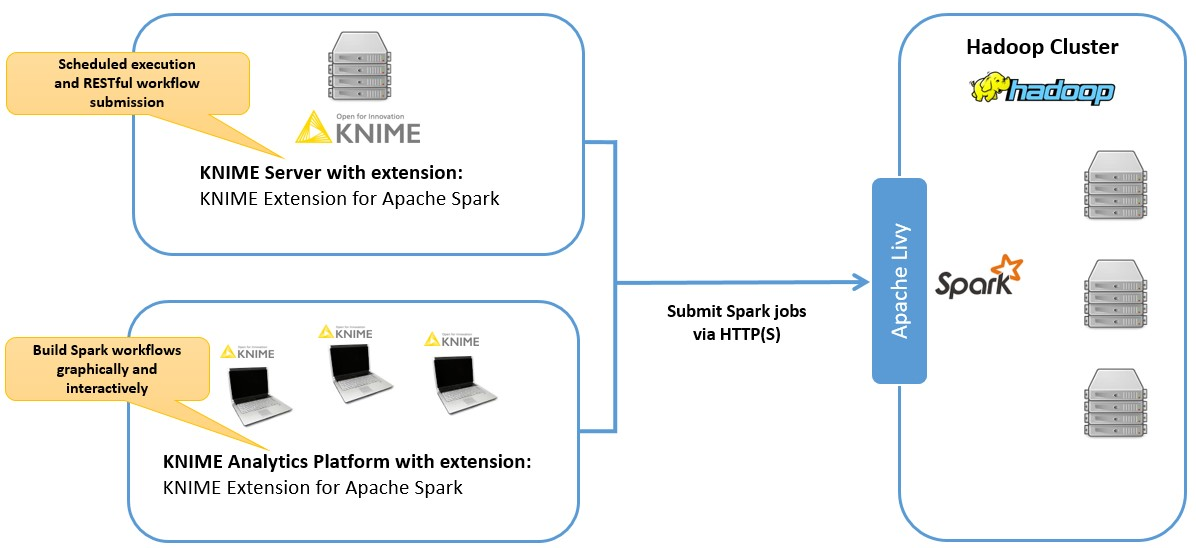 Figure 1. Overall architecture
KNIME Extension for Apache Spark requires Apache Livy as REST service to be installed on an edge/fronted node of the cluster. See the requirements in the compatibility lists below and howto install Livy.
General Compatibility
KNIME Extension for Apache Spark is compatible with
Spark 2.x - 3.0

Livy 0.4 - 0.7
Cloudera CDP Compatibility
KNIME Extension for Apache Spark is compatible with
Spark 2.4 as included in CDP 7

Spark 3.0 on CDP 7 as provided by Cloudera CDS
Cloudera CDH Compatibility
KNIME Extension for Apache Spark is compatible with
Spark 2.x on CDH 5 as provided by Cloudera CDS

Spark 2.x as included in CDH 6
| | |
| --- | --- |
| | Cloudera CDH 5/6 does not include Livy, therefore KNIME provides CSDs/parcels for Livy (see Cloudera CDH). |
Cloudera HDP Compatibility
KNIME Extension for Apache Spark is compatible with
Spark 2.x as included in HDP 2.6.3 - 2.6.5

Spark 2.x as included in HDP 3.0.0 - 3.1.5
Amazon EMR Compatibility
KNIME Extension for Apache Spark is compatible with
EMR 5.9+ with Spark 2.x and Livy 0.4 - 0.7

EMR 6.x with Spark 3.0 and Livy 0.6 - 0.7
Downloads
Apache Livy downloads
Parcels for Cloudera CDH
Download links for CDH 5:
| | | | |
| --- | --- | --- | --- |
| RHEL/CentOS | | | |
| SLES | | | |
| Ubuntu | | | |
| Debian | | | |
| | | | |
| --- | --- | --- | --- |
| RHEL/CentOS | | | |
| SLES | | | |
| Ubuntu | | | |
| Debian | | | |