What is KNIME Software?
One enterprise-grade software platform, two complementary tools: the open source KNIME Analytics Platform for creating data science, and the commercial KNIME Server for productionizing data science.
If you are new to KNIME, you can download KNIME Analytics Platform via your internal catalog or directly on the KNIME website. We suggest you look at our guide to getting started to build your first workflow.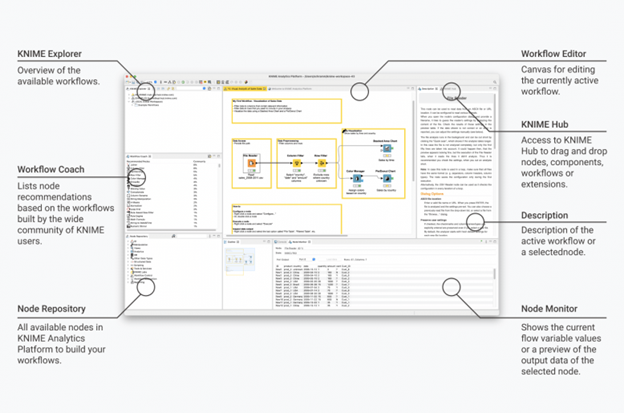 Workflow design process: From KNIME Analytics Platform to KNIME Server
As mentioned before, these are complementary tools.
KNIME Analytics Platform is our open source software for creating data science. Intuitive, open, and continuously integrating new developments, it makes understanding data and designing workflows and reusable components accessible to everyone.
KNIME Server is an enterprise software for team-based collaboration, automation, management, and deployment of data science workflows as KNIME WebPortal applications, Data Apps, REST APIs, and more.
As you start your data project with KNIME, you will create a workflow that can then be uploaded to KNIME Server. KNIME Analytics Platform is how you'll design your data process via a workflow. Once your workflow is ready, it can be easily automated or deployed when you upload it to KNIME Server.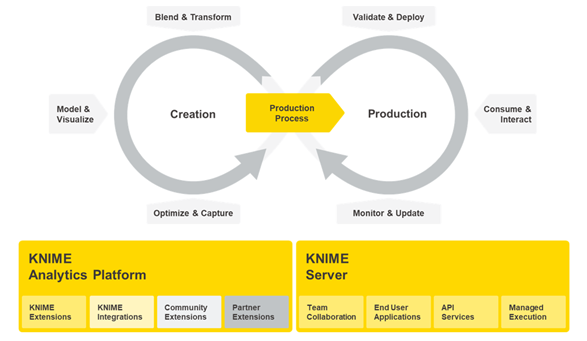 Before building a KNIME Workflow: project prerequisites
As with any project, prior to building your workflow, it's important to understand the scope of what you're working with. This checklist can guide you:
Is there a clearly defined goal that is measurable and achievable?
For example: We want to reduce the churn rate by 15%.

What data sources are required to reach the goal? Do you have access to these sources?

Who should consume your deployed data science application, and how? For instance are you making:

A scheduled workflow that regularly creates and sends a report?

A scheduled workflow that gets executed regularly to process new data or apply a predictive model?

A Data App that gets deployed to KNIME WebPortal?

A predictive model that is accessible via REST API?

What kind of workflows do you need to achieve your goal?

What is the task of each individual workflow that you want to build?

What is the input and output of each individual workflow?

Do your workflows share some parts?

Define the requirements for the created workflows (how fast the execution should be, how often should it be executed, etc.).

What hardware and software do you need to meet all these requirements?
Best practices when working with KNIME Analytics Platform
Use proper naming for your workflows or groups
Use a clear naming convention for your workflows. From the workflow name, it should be clear what the workflow is doing (e.g. "Project_1" vs. "Read and Preprocess Customer Data"). If one of your workflows is followed by another workflow, you might want to introduce an order by using numbers as prefixes.

Design your workflow in a secure, reusable, and efficient way
Avoid using local file paths
To make your workflow able to access the data sources whether it is executed on your machine or on any other machine, it is important to avoid local file paths. Instead use relative paths or, if your data is already available in a remote files system, manage your files and folders there directly. To do so, you can use a dynamic file system connection port and one of the many different connector nodes, e.g. the SMB Connector or the S3 Connector node.

Use credential nodes
It is not recommended that you save any credentials or confidential data in your nodes and workflows. Instead use the Credentials Configuration or Credentials Widget node to let the user specify credentials at runtime.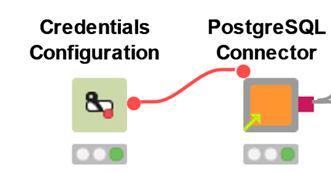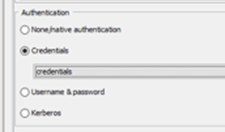 If the workflow is shared via KNIME Server, the person who executes it can provide the credentials when starting or scheduling the execution, either via the WebPortal or the "Configuration" options in the execution window. (Right-click a workflow in the KNIME Explorer and select "Execute" to open it).
Document your workflow
To make your workflow reusable, you and your team need to be able to quickly understand what it's doing. It is therefore important to document your workflow — and if it's large, you should structure it into different parts.
To structure a large workflow, you can use metanodes and components for the different parts and nest them. To document the workflows, you can:
Change the node labels to define what individual nodes do by double-clicking on their labels.

Create an annotation box. Just right-click anywhere in the workflow editor and select "New Workflow Annotation." Then type in your explanatory comment, resize the annotation window to make clear which group of nodes it refers to, and format the text using the context menu.

This workflow is an example of how to document workflows and add descriptions and annotations to them.

Attach a workflow description by clicking on an empty spot in the workflow, then go into the Node Description view and click the edit button on the top-right.
Design your workflow to be efficient
To make the execution of your workflow efficient, it is good to follow some best practices and take into consideration how compute-intensive it is to execute each individual node.
Exclude superfluous columns before reading. In case not all columns of a dataset are actually used, you can avoid reading these columns by excluding them via the "Transformation" tab of the reader node.

To make the data access part of your workflow efficient, you should avoid reading the same file multiple times, but instead connect one reader node to multiple nodes.

Use the "Files in Folder" option to read multiple files with the same structure.

Remove redundant rows and columns early before performing expensive operations like joining or data aggregation.

Only use loops if it is absolutely necessary. Executing loops is normally expensive. Try to avoid them by using other nodes, e.g. String Manipulation (Multi Column) or Math Formula (Multi Column) nodes.

Push as much computation as possible to the database. In case you are working with databases, you can speed up the execution of your workflow by pushing as much of the preprocessing of the data as possible to the database server by using the DB preprocessing nodes before reading the data into KNIME Analytics Platform.

Close database connections with the DB Connection Closer node.

Delete disconnected nodes or workflow branches that are not actively needed.
To further improve the performance of your workflow, you can use the Timer Info node to find out how long it takes to execute individual nodes.
Best practices when working with KNIME Server
Glossary
Workflow Annotation
A box with colored borders and optional text that can be placed in a workflow to highlight an area and provide additional information. Right-click on an empty spot in a workflow and select "New Workflow Annotation" to create a new workflow annotation at that position.
Node Annotation
The text underneath a node. By default this only shows "Node <id>," where <id> is a running number given to nodes placed in a workflow. By clicking on the text, the user can edit it and add a description of what the node does.
Workflow Description
A description of a workflow that can be edited by the user. Shown in place of the node description when no node is selected. Click on the pencil icon at the top-right to edit it. The workflow description is also shown in the KNIME Server WebPortal when a user opens the workflow's page.
Server Repository
The place on the server where workflows, components, and data files are stored. Items in the repository can be protected from unauthorized access using permissions.
Job
A copy of a workflow meant for execution. A job can only be accessed by its owner, the user who started it. More information about jobs can be found here.
Data App
A workflow comprising one or more components that contain view and widget nodes a user can interact with in the browser. A Data App is deployed on KNIME Server and started via the WebPortal. A guide on building Data Apps can be found here.
Schedule
A plan of when to execute a particular workflow. Once set up, KNIME Server will make sure that a workflow is executed at the configured times, either only once or repeatedly. More information is available here.
REST API
An interface for access to KNIME Server functionality using HTTP calls (GET, POST, PUT, DELETE, etc.). REST stands for Representational State Transfer and constrains how an interface in the world wide web should behave. API stands for Application Programming Interface and is generally used to allow machines to communicate with each other. On KNIME Server, the REST API can be used to manage workflows and other files (up- and download, move, delete), create schedules, and trigger the execution of workflows. KNIME Analytics Platform also communicates with KNIME Server via the REST API, so essentially everything you can do in the AP, you can also do via REST. More information can be found here.